[VentureBeat] 2012 investment: Busting myths by looking deeper at the numbers
February 8, 2013
Myth: Common investor refrain–I only invest in picks and shovels, not game studios. Who needs the content risk!
It is common for many a budding entrepreneur to be told by investors I don't invest in games, too much content risk. I only invest in platforms.
When investors are talking about picks and shovels in gaming they are referring to platform plays that help game studios either build, promote, engage, or monetize their games faster, better or cheaper. This includes cross-platform game engines such as Unity, cross promotional networks such as Applifier and for some even android publishers such as MoMinis.
However, if you look across overall investments in 2012, game studios fared better than game platforms. Of the 160 gaming investments (not counting Kickstarters or strategic investments in large companies) made in 2012, 82 were game developers and 78 were platform plays. In aggregate dollar value game studios received slightly less funding that platforms, of the $734.77 million invested 45 percent went to game studios.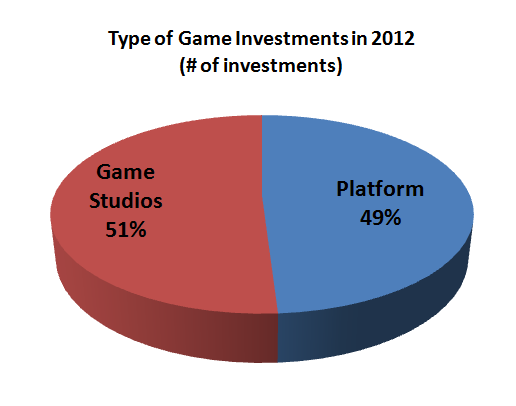 Truth: There are fewer green pastures opportunities left for gaming studios, a lot more left for platforms as gaming matures
Investors have definitely shown that they believe this through their 2012 investments. In 2011, 74 percent of the investments were made to game studios while the remaining were made to platforms. In 2012, 51 percent of the investments were made to game studios. However in dollar value the game studios in 2011 accounted for 53 percent of the investments versus 45 percent of the investments in 2012. This means that while VCs are making fewer game studio bets and more platform bets in 2012, the game studio bets were larger in dollar size than the year before. The average game studio deal size was $6.79 million in 2011 versus $9.64 million in 2012.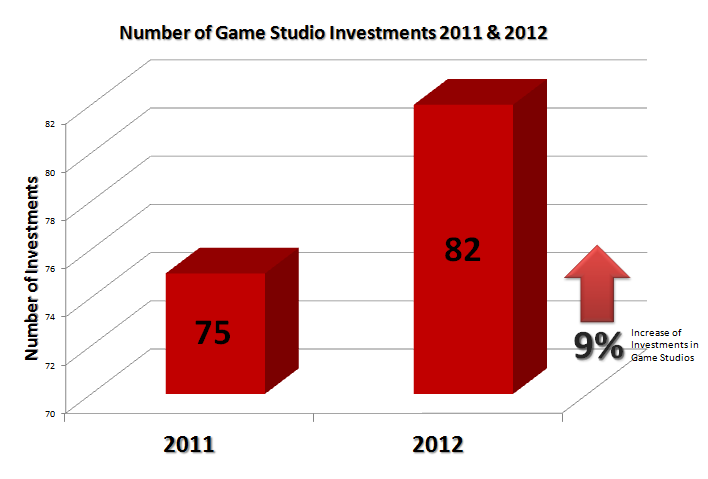 Myth: Games studios always take longer to get funded than game platforms
And its close brother "game studios need a lot more traction to get noticed by investors than game platforms do." To investigate if this was true I calculated the number of months between founding of the company and its first venture round for game studios versus game platforms, only using those companies who received their first venture round in 2012. I also eliminated seed and angel rounds.
I found that on average the game studios received their first venture financing 28.44 months after inception while game platforms received their first venture financing 33.1 months after inception.
But before you go starting a game studio, keep these facts in mind:
Of the 15 game studios that received their first venture round in 2012–7 were to companies that by the time of funding had achieved breakout user traction and 4 were to companies started by founders who had past exits. The obvious implication for you, if you are founding a game studio and have not had major exits before–focus on getting a large user base and the juiciest unit economics you can as fast as you can.
If you have had a reputable exit of your startup before even if it was a non-gaming now would be the time to capitalize it for fund raising. While the overall average of time from inception to first venture financing for game studios was 28.5 months, the average for investments where the founders had prior exits was 13.2 months, compared to 34.8 months for the studios who had hits. In venture financing social proof may very well carry more weight than real results, at least in terms of financing earlier in the company life cycle.
The time from seed to first venture financing is much longer in games than in other comparable industries such as consumer web despite all the complaints about a series A crunch in consumer web. For you that means have a seed cash cushion that lasts you for at least 2 years of lean operations. In that time aim for sustainability and profitability to allow you to have a cash buffer should the core drivers of your business significantly change (example the rising costs of distribution). In the words of a European venture capitalist I met recently–be profit focused not cash-flow focused.
Source: Original research conducted by YetiZen and Raymond James Tech Investment Banking, analysis done by YetiZen.
Assumptions and the reasons why some of the numbers above may be different from others you have heard:
Only deals with numbers disclosed were used for this analysis.
I did not count Kickstarter or seed deals as our purpose was to indicate the beliefs and investment hypotheses of venture investors. Kickstarter and seed deals are done by individuals and angels, both often fund due to passion for the founder or the product rather than a hypothesis regarding the market.
Only deals closed in 2011 and 2012 were used, deals closing in 2013 were eliminated.
I only counted game studios and gaming platforms. Investments in gamification such as CRM, health, and restaurants were not included as I consider these investments outside of the pure gaming ecosystem.
2011 numbers do not count Zynga & Nexon IPOs as these are public market not venture investments.
If you are interested in looking at the research for this post please visit: YetiZen Report