Unusual Studios Gives All Other Sports Games A Massive Kick
December 7, 2012
Avoid the Penalty. Gameplay + Online = Good Game
Traditionally, sports games for mobile platforms can often be too complex, featuring the same gameplay as console games; playing EA's Madden or FIFA games is illogical on these devices. These games tend to be hyper-realistic, with long play sessions and complex control schemes designed for gamepad. They can also be too simple, more like interactive toys than real games and with very low production value.
In an increasingly connected world, interactivity is king. Despite the networked potential of mobile devices, sports games on portable platforms have shied away from multiplayer gameplay. Without utilizing the strong competitive drive elicited by online play, most approaches to implementing sports games fail to engage these high-energy, highly loyal players on a fundamental level.
Users need a new approach, one that attracts users by fusing smartly designed gameplay with interactivity.
Staggering mobile sports statistics: 80% of social and mobile gamers are sports fans, and 20% of these fans download games. This leaves a huge untapped market opportunity of 80 million users who are avid sports gamers willing to expand their sports fanaticism into the mobile realm. Yet, only 8% of top charting games are sports based.
To Achieve a Goal, Hit the Net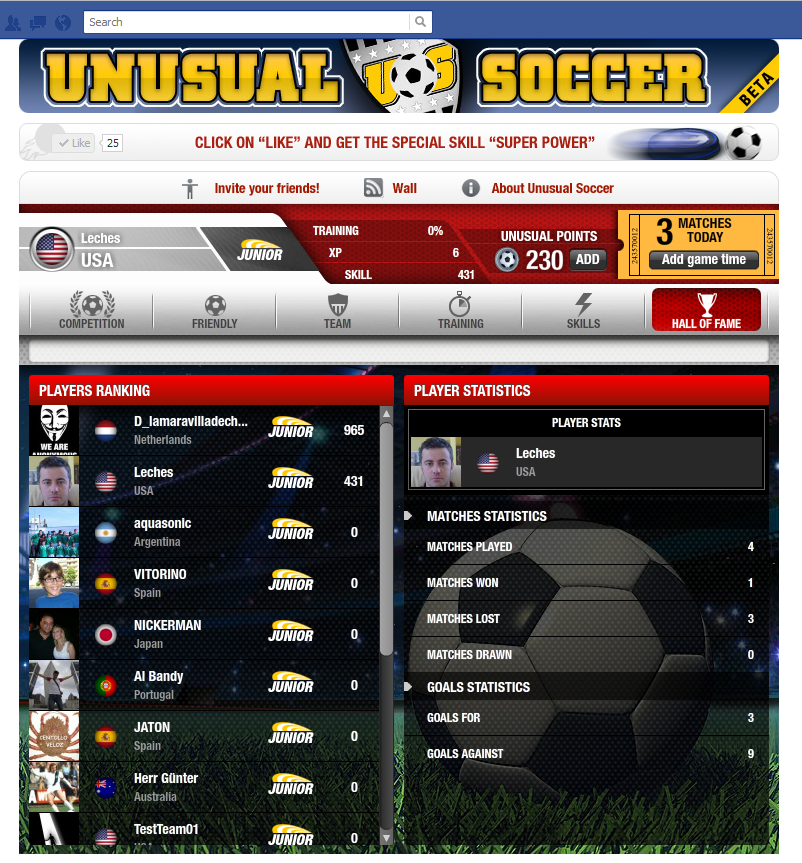 Unusual Studios creates sports games for passionate fans that give players a way to connect with their teams outside of the stadium. Social networks and mobile devices give players a chance to interact online and connect with their friends and other enthusiasts. Unusual provides a way for users to engage each other directly through sports games and meets that untapped demand.
Unusual brings together brands and sports on mobile devices, clearly leading up to become the center of both worlds, by understanding that brands perpetuate the stadium and are readily embraced. Connecting brands and sports on mobile platforms, the studio has created games that effectively engage players while fulfilling the communication needs of the brands.
The leaders in free-to-play sports games, Unusual Studios demonstrates the success of their model with huge player engagement. Even with just a limited release in Spain, they have already established a 300K player base, over 150K MAU and 35K DAUs. In fact, users are spending over 80 minute play times, showing off an incredible level of engagement for the social and mobile platform.